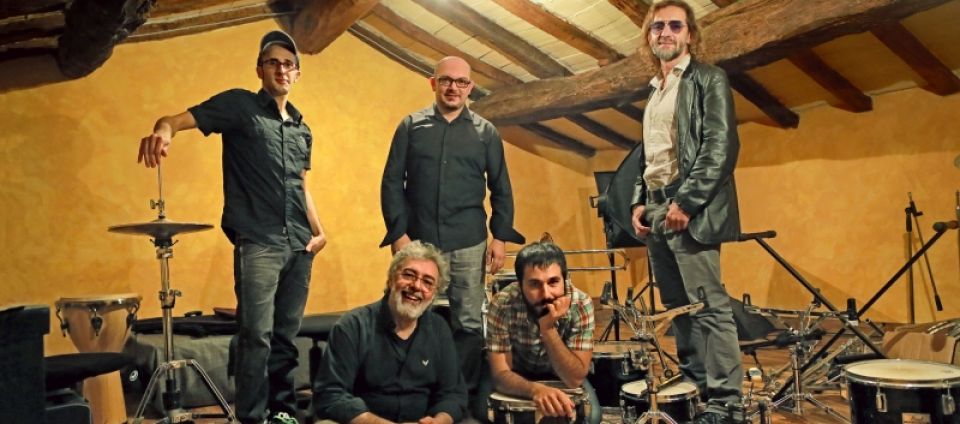 Beppe Di Benedetto 5tet
The music career of Beppe Di Benedetto 5tet started about ten years ago. Since the first meeting, the objective of the band has been to focus on original pieces, written mainly by the band leader, highlighting the solo and interpretative language of the single components through a knowledgeable attention to contemporary jazz sounds.
The first album by the quintet, See The Sky, produced in 2011 by TRJ Records, has received considerable success nationally and internationally. Beppe Di Benedetto (trombone) and Luca Savazzi (piano) – the two composers of the band – together with Emiliano Vernizzi playing saxophones, Stefano Carrara playing the contrabass and Michele Morari the drums, constitute today the Beppe Di Benedetto 5tet.
The evolution of composition of Beppe Di Benedetto and Luca Savazzi, along with the growth style of the soloists and the quintet, has materialized in the new project Another Point Of View, produced by TRJ Records.
The quintet has been invited to take part in various Festival, Exhibitions and concerts in the Jazz Club including: ParmaJazz Frontiere, Lovere Jazz Festival, Festival Delle Terre Verdiane, Festival Barezzi Live, Calcinato Jazz Festival, Soresina Jazz Festival, Jazzit Festival, Giovani Titani Jazz Festival, Rassegna Nottetempo, Rassegna Bacoli Jazz Club, Riga Jazz Club (Lettonia), Cento Jazz Club, Bergamo jazz Club, Piacenza Jazz Club, Jazzit Club Montefalco, Zerbini Jazz Club ecc.